KNX capacitive touch panel 7″ IP connectivity + door phone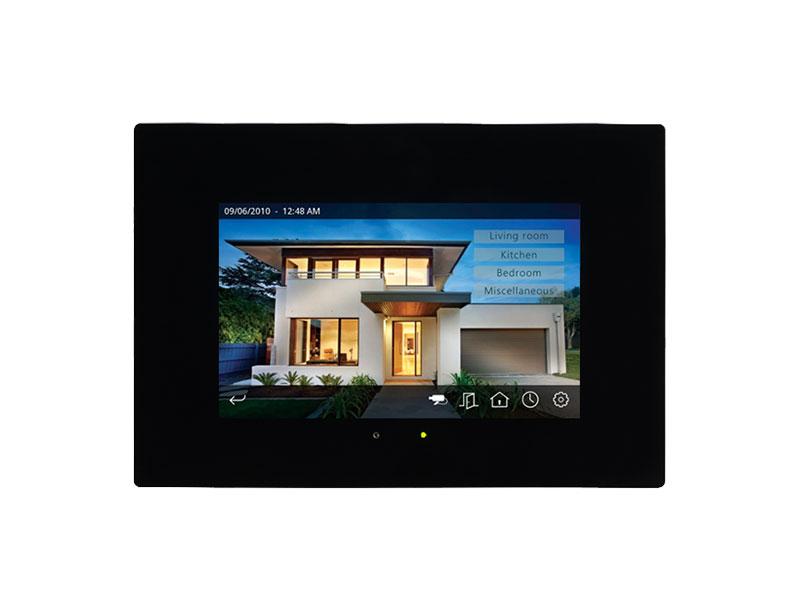 KNX capacitive touch panel 7″
The device TP70I12KNX is a control unit for KNX-based home and building automation installations, featuring a 7" TFT capacitive touch screen, integrated web server, and video door phone function. Available in GLASS (full glass front) and CLASSIC (interchangeable front frames) models.
KNX capacitive touch panel 7″ main features:
• Control and monitoring of KNX devices
• Simple, user-friendly navigation through floorplans and zones
• Up to 512 configurable pages, with up to 8 control functions per page (more than 4000 functions)
• Customizable background images
• User-editable scenes
• Weekly time schedules
• Alarm monitoring with event log
• Presence simulation with day and night schedules
• Logic functions (logic gates, comparators, timers, etc.)
• Four independent thermostats
• Touch gestures: 4 directional gestures + multitouch gesture
• Video door phone function, with full duplex audio and echo cancellation (**)
• IP camera monitoring (**)
• Remote control from smartphones, tablets, and PCs
• Integrated stereo loudspeakers and digital microphone
• Four multi-function inputs, individually configurable as binary or temperature probe inputs (see probe code TS01I01ACC)
• Real-time clock (RTC) with backup battery
• Integrated KNX bus coupling unit
• Very low power consumption
Contact us for more information about our new device or also discover the new KNX capacitive touch panel 4.3″  and KNX capacitive touch panel 10.1″.