KNX capacitive touch panel 4.3″ IP connectivity + door phone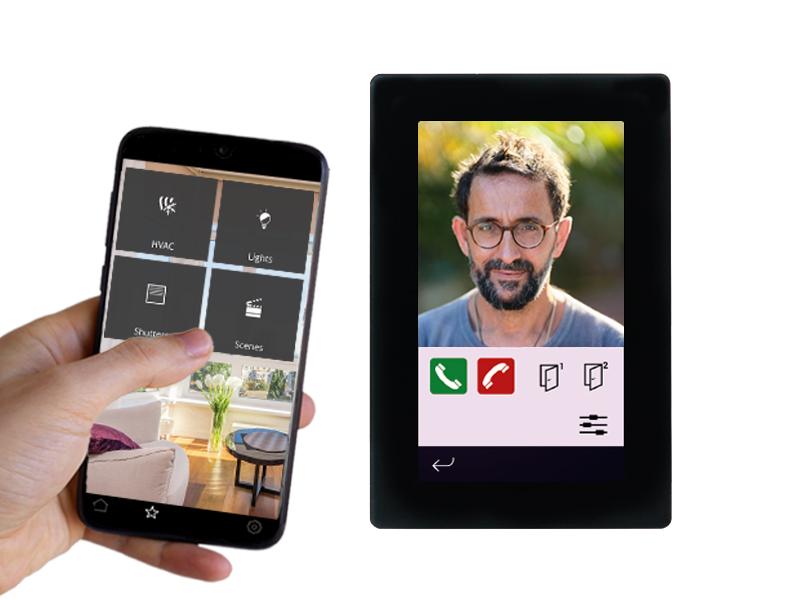 The touch panel is equipped with a 4,3 inches display for visualisation and control of KNX installations. Available in white or black glass finish, can be installed in portrait or landscape mode.
Main features:
• Up to 96 control functions, organized in 12 configurable pages
• User editable favorites page
• Configurable background images
• Weekly time schedules (up to 96 channels, 4 programs / channel)
• Alarm monitoring (up to 96 alarms) with event log
• Touch gestures: Up to 5 quick actions without leaving power saving mode
• Internal scene controller
• Two independent thermostats
• Four multi-function inputs, individually configurable as binary or temperature probe inputs
• Real-time clock (RTC) with backup battery
• Integrated KNX bus coupling unit
• Ultra-low power consumption
The device feature an Ethernet connector, and support remote control from smartphones and tablets through the eTouch-App, avvailable for iOS and Android
Further more it also doubles as an indoor video door phone monitor, and supports IP camera visualisation.