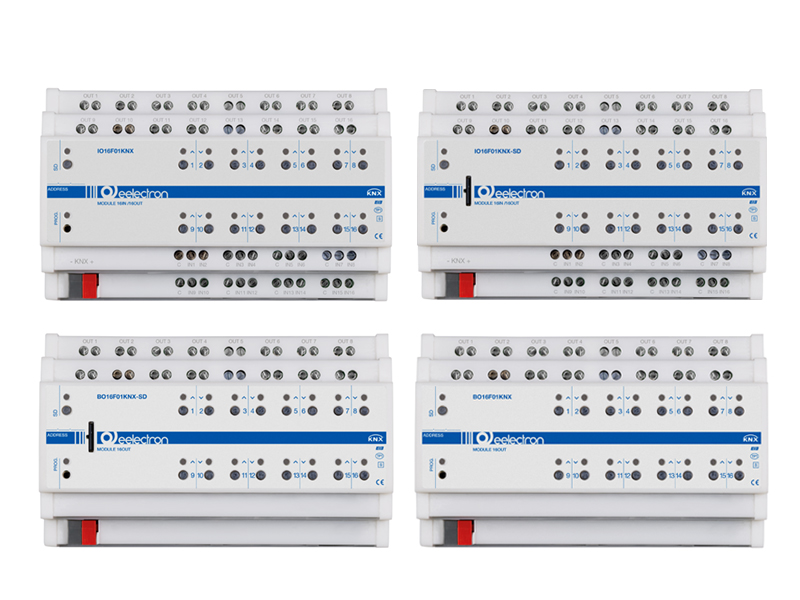 Eelectron is delighted to announce the extension of its portfolio with a new range of KNX actuators: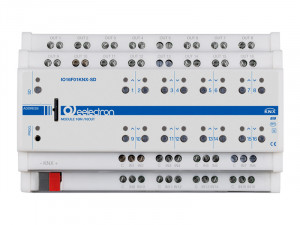 UNIVERSAL ACTUATOR 16 IN / 16 OUT PLUS [ref. code IO16F01KNX]
available also with microSD card reader
[ref. code IO16F01KNX – SD].
Outputs
    16 outputs for lights and load control
    Up to 8 shutters/ venetians / blinds management
    Up to 4 fancoil 2 pipes management or up to 2 fancoil 4 pipes management
    Up to 16 channels for Valves in PWM
    Up to 8 channels for 3 point valves control
   Relays (up to 8) can be grouped to create special functions using logic interlock
Inputs
16 Digital Inputs / signal led output
4 inputs (of 16) configurable as analog for the connection of probes for temperature measurement (up to 4) or for simple on/off management (eg. towel heater..)
2 Stages Thermostats with integrated PI Controller for heating and cooling management, valves or 2 / 4 pipes fan coils
MicroSD Card Reader
Both actuators include a microSD card reader to enable programming restore to an identical device for fast installation and easy programming in or out of field.
Product Description – IO16F01KNX | IO16F01KNX-SD
Product Description – BO16F01KNX | BO16F01KNX-SD