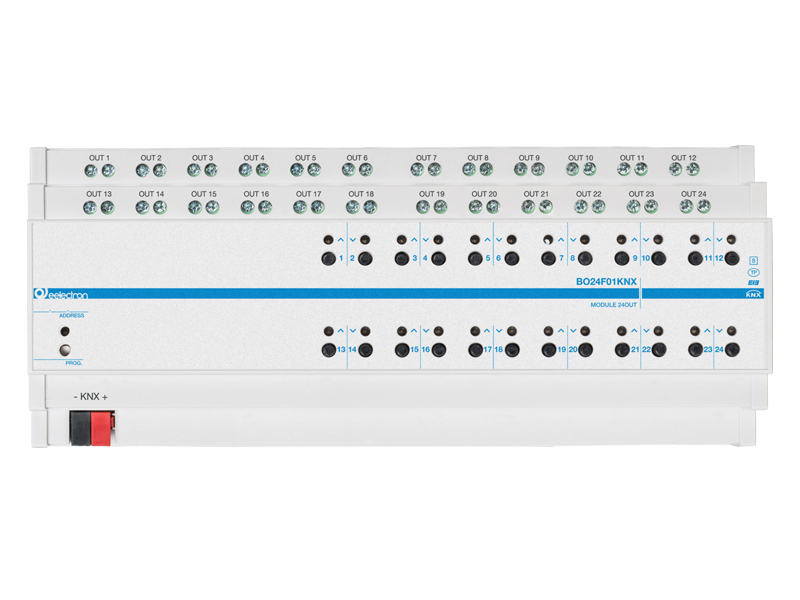 Device BO24F01KNX, Knx 24-channel Actuator, is a DIN rail EIB / KNX actuators with 24 relay outputs that can be configured as:
–  24 outputs for light / load control
– 24 channels for valve in PWM (solenoid actuators)
–  12 channels for roller shutter / venetian control
–  12 channels for 3-point valve control
–  6 fan coil actuators 2-pipes / 4 fan coil actuators 4-pipes
It is also possible to combine 3,4 or 5 relays with logic interlock for 4-pipe / 3-speed fan coil control or combine groups of relays (up to 8) for special function using logic interlock.
Version BO24F01KNX-SD  includes a microSD card reader with which you can save the programming of the device to be able to restore it on an identical device in order to avoid programming in field or to allow a fast restore in case of failure.
The KNX Domotic installations for building automation Eelectron, developed on KNX protocol, are intelligent custom home automation systems for automation and energy saving in buildings; the product range with Made in Italy is designed for residential, hotel and building applications.
Contact us for information about the Knx 24-channel Actuator or Knx 8-channel Actuator