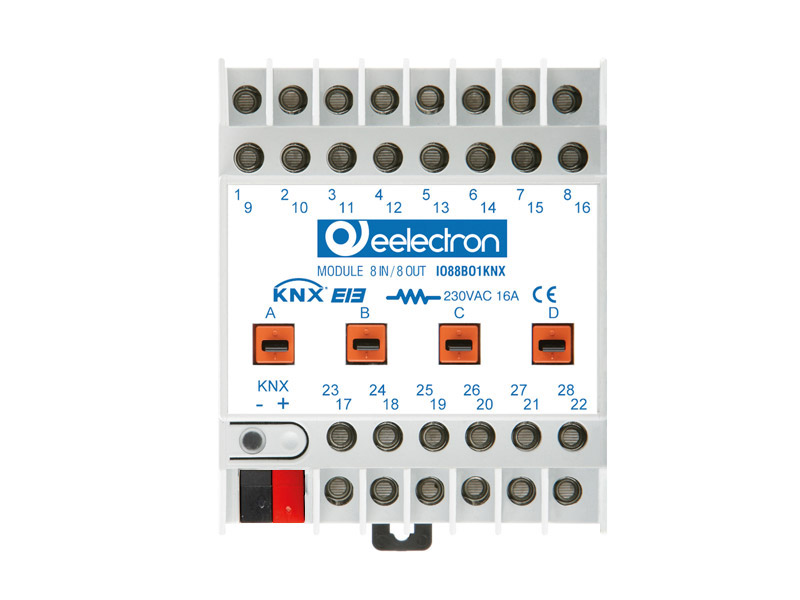 DISCONTINUED PRODUCT
Universal 8 IN / 8 OUT C-LOAD
The DIN RAIL 8 Input / 8 Output Module IO88B02KNX is an EIB/KNX DIN rail mounting device useful to interface commands (e.g. push buttons) or loads (e.g. lamps) for any kind of applications.
The control loading system is equipped with 8 binary inputs (potential free) and 8 binary relay outputs. Inputs can be connected to conventional switching devices, e.g. push buttons, switches, floating contacts, for switching functions with pulse edge evaluation (e.g. rising or falling edge, toggle, etc…). Inputs can be configured with ETS SW, as output channels to drive LEDs in synoptic monitoring panels.
Inputs can be used to for on/off commands, dimming, shutter control, scene recall and control; outputs include switching function, scene recall and control logic function.
Relay from 5 to 8 are equipped with tab and can be switched manually. Device is intended to be installed on DIN rail.
The device configuration for commissioning in terms of physical address, group addresses and parameters is done with ETS (Engineering Tool Software) through a download of the Application Program.
The KNX Actuators Eelectron, developed on standard protocol, are intelligent custom home automation systems for automation and energy saving in buildings; the product range with Made in Italy is designed for residential, hotel and building applications.
Contact us for information about the control loading system or about the automated load control systems.