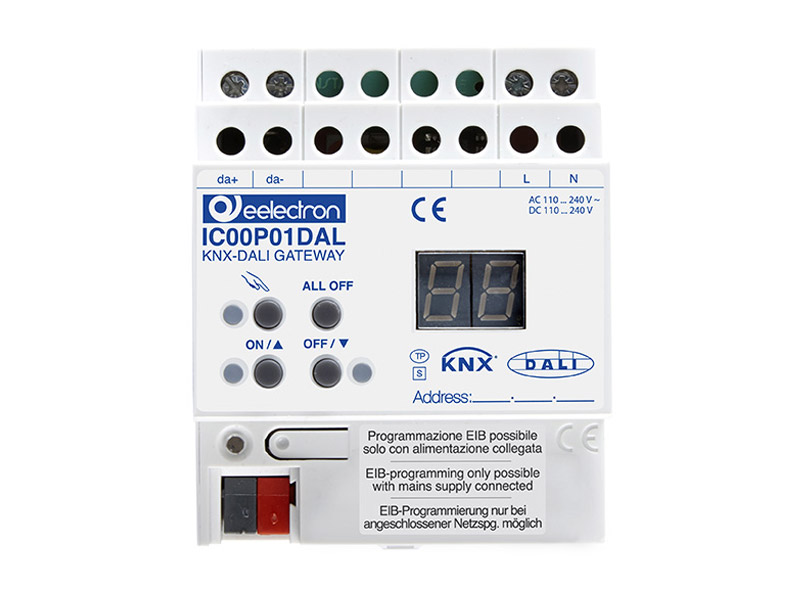 Dali KNX interface
The DALI Gateway KNX forms the interface between a KNX installation and a digital DALI (Digital Addressable Lighting Interface) lighting system.
The KNX DALI Gateway allows the switching and dimming of a maximum of 64 lights with a DALI operating device (e.g. electronic ballast). Up to 6 different addressing types of the DALI Gateway allow group-orientated and individually- address control of DALI lights via KNX telegrams.
This allows the integration of room-specific light control, for example, of open-plan offices, multipurpose spaces, production facilities, training and presentation rooms or showcases into the higher-level KNX building management.
Depending on the configuration, up to 32 independent DALI groups are available for group addressing. For alternative control, these can be supplemented with 64 individually-addressable DALI device channels, as necessary.
Optionally, master control of all connected DALI components is possible (broadcast). This means that there is no need to commission DALI, meaning that lighting systems with few functions can be started up quickly and easily (simplified configuration without DALI commissioning). The DALI Gateway is supplied completely via the mains voltage connection and makes the DALI system voltage (typ. DC 16 V) available. The device is designed for mounting on DIN rails.
The DALI Gateway can be integrated into DALI emergency lighting systems. It allows interference-free operation of operating devices, general lighting systems and emergency lighting operating devices of the same DALI system. The device is able to integrate standard DALI operating devices for lighting control according to IEC 62386-101 (DALI System) and IEC 62386-102 (Control-Gear) into centrally-supplied emergency lighting systems as an emergency light. Alternatively or in addition, the Dali KNX interface permits the control and function monitoring of individual battery operated emergency lighting operating devices, according to IEC 62386-202.
The KNX Domotic installations for building automation Eelectron, developed on KNX protocol, are intelligent custom home automation systems for automation and energy saving in buildings; the product range with Made in Italy is designed for residential, hotel and building applications.
Contact us for information about the KNX Gateway DALI or KNX 16 channel actuators.
Discover now our works of KNX  home automation system.