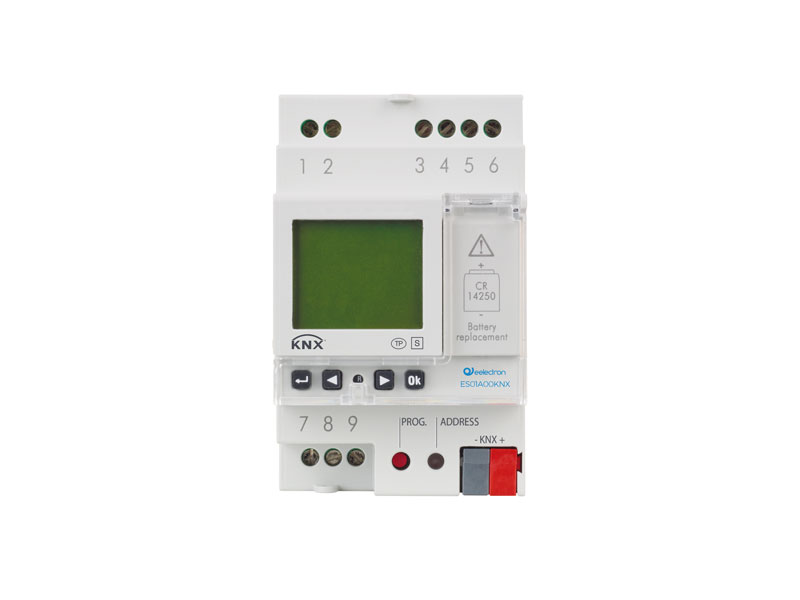 KNX TIME / ASTRONOMICAL MASTER
ES01A00KNX is a digital electronic switch for time management of electrical utilities.
It allows time programming (daily, weekly or yearly) or astronomical.
ES01A00KNX can control 9 different channels on bus KNX.
The programming of channel 1 is also replicated on the relay located on the device. Each channel can be associated with a different programming (time or astronomical). ES01A00KNX also offers the possibility of connecting via BUS a GPS module, ES01A00ACC (available as an accessory), which allows the acquisition of the time and the position through the satellite system, ensuring greater accuracy over time. The backup battery allows you to keep the settings even in case of blackout and can be replaced through the cover (sealable).
Product specifications: 
– Time programming (daily, weekly, monthly or yearly) or astronomical programming
– Available programs: on/off, pulse, holiday, random, night (astronomical)
 9 different channels on bus KNX (the behaviour of the first channel is replicated on the on-board relay)
 – Maximum number of storable programs: 450 (900 events) allocable on 9 channels
 – Possibility to automatically capture date, time and geographical position connecting the additional ES01A00ACC module
 – Automatic time update (DST)
 – Correction of the calculated sunrise and sunset time: ± 120 minutes
 – Random switching function of the outputs
 – Channels status manual ovverride (temporary or permanent)
 – Possibility to copy the programs of one channel on other channels
 – Menu in five languages: Italian, English, Spanish, German, French
 – Keypad lock by password
 – Backup battery (CR 14250 type) replaceable without removing the device
The system component & interfaces Eelectron, developed on KNX protocol, are intelligent custom home automation systems for automation and energy saving in buildings; the product range with Made in Italy is designed for residential, hotel and building applications.

Contact us for information about the KNX Astronomical clock.