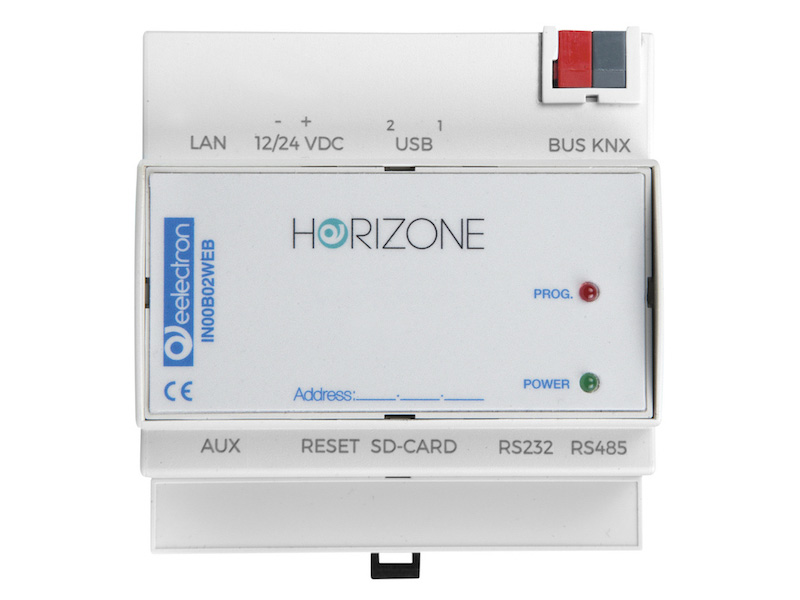 HORIZONE WEB SERVER: smart home server KNX
For Home & Building automation
HORIZONE is a webserver or smart home server KNX specifically engineered for supervision and monitoring of Home & Building Automation systems. Based on KNX standard and suitable for integration with Modbus standard and other technologies used in intelligent buildings, alarm systems, fire and smoke detections systems, audio/video distribution systems.
Compatible with operating system Mac OS X, Microsoft Windows, Apple iOS and Google Android, the configuration and use of HORIZONE takes place directly through its web interface, which can be accessed through a the most popular browser on the market browser from any device (pc/mac, smartphone e tablet) or with free app available on iOS and Android store.
HORIZONE has been designed to fit on DIN rail with a compact dimension as 5 module.
** On demand Horizone Upgrade over 1400 KNX group adresses
Visit our new website Horizone – Web Server
The supervision systems KNX Eelectron, developed on KNX protocol, are intelligent custom home automation systems for automation and energy saving in buildings; the product range with Made in Italy design and production is designed for residential, hotel and building applications.
Contact us for information about the Horizone smart home server KNX.