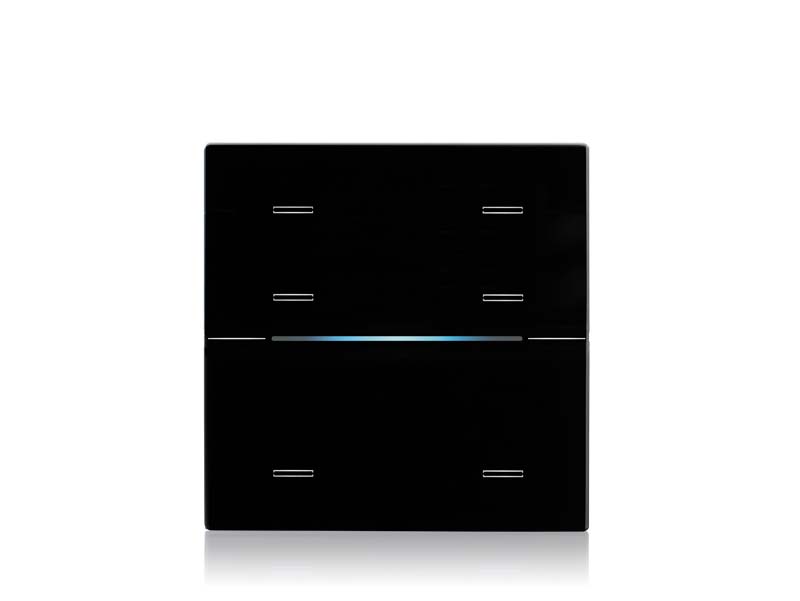 9025 Multisensor Controller (CO2 – Humidity – Temperature)
The environmental sensor MC06A01KNX is a device of the 9025 series, it is wall-mounted and finished with a white or black glass.
In the device there are 3 sensors available: temperature, humidity and CO2, this measure is detected by using an integrated probe specially designed to detect CO2 data directly and not through calculations based on other sensors.
The device is also equipped with a 2-way connector on the rear side that can be configured as a digital or analogue input; in fact it is possible to connect an additional NTC probe to the device (eelectron code TS01A01ACC or TS01B01ACC – not included) to obtain a second temperature measurement.
The device includes 2 double-stage thermostats for controlling two distinct areas, both with an integrated PI controller for driving heating and cooling equipment, valves, 6-way valves, 2 and 4-pipe fan coils, etc;
The humidity sensor manages the reading of the relative humidity in the environment and allows threshold control with hysteresis of humidification and dehumidification equipments.
The device embeds 6 capacitive keys for the management of on / off commands, dimmers, shutters and blinds, execution and learning of scenarios, object sequences, local thermostat controls, etc. It includes a RGB LED on the front side for displaying status (temperature, humidity and CO2) or other quantities available on the KNX bus.
Device is intended to be used in British Box, German Box or Italian 2 module box.
The KNX presence sensor Eelectron, developed on KNX protocol, are intelligent custom home automation systems for automation and energy saving in buildings; the product range with Made in Italy design and production is designed for residential, hotel and building applications.
Contact us for information about the Knx Sensor (ambient CO2 sensor – Humidity – Temperature).