9025 CAPACITIVE KNX SWITCH – LINE SERIES – 3 MODULES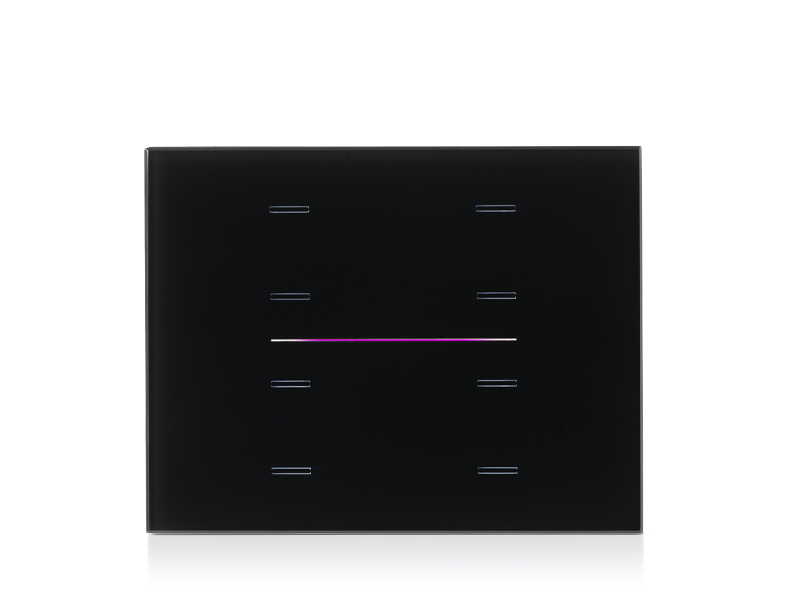 The KNX® 9025 switch range consists of 4 – 8 – 10 channels  (3 or 2 modules version) capacitive buttons.
Each button can be configured to manage on/off commands, dimming, shutters and venetians control, scene recall and control, objects sequences etc;
Device includes a 2 stage Room Temperature Controller with integrated PI to control heating and cooling equipments, valves, 2 and 4 pipes fan coils; etc.. Device has an embedded temperature sensor and a rear 2 poles connector configurable as digital or analog input;
It's possible to connect an additional NTC temperature probe (eelectron codes TS01A01ACC or TS01B01ACC – not included) to perform a direct temperature measurement.
9025 range has a RGB led bar on the front side in order to visualize feedbacks or other values available over the KNX bus (function available on the RGB range).
Devices are available in 2 ranges: STANDARD and RGB; each range may have glasses in CUSTOM version.
Using glasses in CUSTOM version is possible to light up custom and interchangeable icons matching with the associated function.
The 9025 KNX® range is mounted in 2 or 3 modules box and is compliant with main standards (British, German, Italian, etc).
Device is equipped with KNX communication interface.
The Switch and Sockets for home automation Eelectron, developed on KNX protocol, are intelligent custom home automation systems for automation and energy saving in buildings; the product range with Made in Italy design and production is designed for residential, hotel and building applications.
Contact us for information about the 9025 Capacitive KNX switch – Line series – 3 Modules