DIMMER LED DIN 4 CHANNELS RGB – WHITE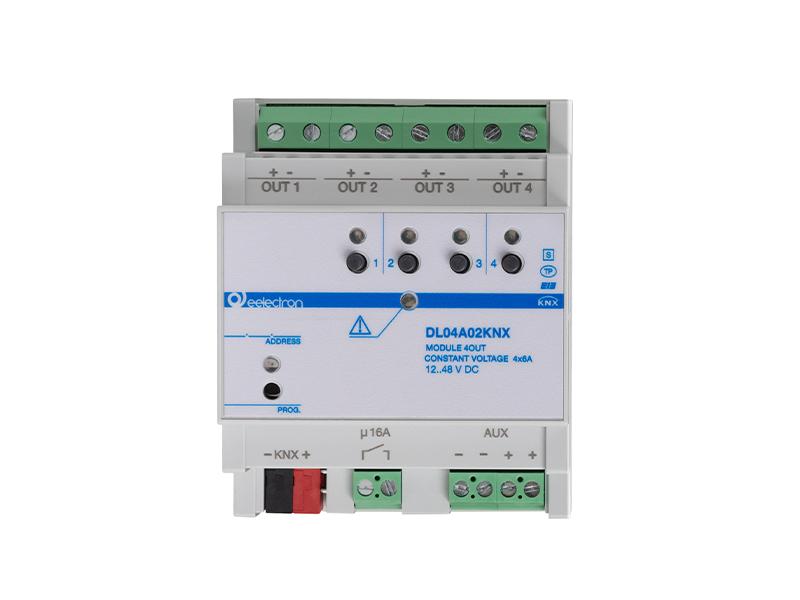 DL04A02KNX is a dimming actuator for LED in DC with constant voltage (CV).
The device allows to drive 4 independent channels or 1 RGB channel and 1 single color channel or 1 channel RGBW.
It is possible to enable the notification mode of the correct functionality of the device via a communication object Module can be powered from 12 to 48V DC and consequently can manage the outputs (LED strips) with voltage from 12 to 48V DC.
The maximum current for each channel is 6A. The device includes a 16A relay, suitable for switching capacitive loads, that allows a complete shutdown of the external power supply when all loads are switched off (for example at night) ensuring the maximization of the energy saving. It is mandatory to connect one of the external power supply cables to the relay.
In case of an anomaly of the outputs, the device automatically excludes the external power supply and the device stops working. On the front pane there are 4 local switching buttons with corresponding status LED and a LED for signalling faults: over-temperature, power connection with reversed polarity, insufficient auxiliary power supply voltage