9025 CARD HOLDER KNX – BLE BEACON + KNX SECURE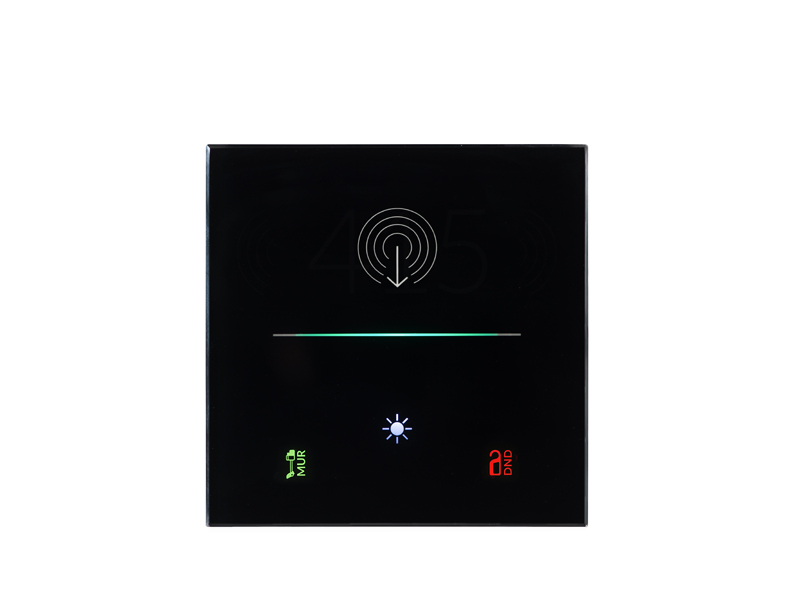 The 9025  device dedicated to access control management is a KNX device and use RFID – MIFARE® technology and can be configured with ETS® to communicate with the KNX Data Secure protocol.
The products is intended to be installed with the glass covers which can be customized on request.
The upper part of the glass is backlit (to illuminate the room number or a logo – both customizations on request); in the lower part there are 3 freely configurable backlit capacitive button (typically with CAMERA LIGHTS function and buttons for setting MUR and DND).
The devices integrate an antenna with BEACON BLE (Bluetooth Low Energy) function. Data format compatible with iBeacon® and Eddystone®.
The device allows you to set the transmission frequency and signal strength.
BLE technology allows the sending of messages to mobile devices. These devices must have an app that allows them to receive information from BLE beacons.
The card is inserted into a compartment from the top of the device. The color of the reader RGB LED bar indicates that the card has been recognized and shows different (configurable) colors for status or anomalies reporting such as:
Card recognized (welcome): default color Green
Incorrect system code: Orange color default
Unrecognized ID card: default color Red
Wrong Card Date (validity expired): default color Yellow
Wrong day of the week (Entry prohibited day): default color Purple
Wrong time of day (Entry forbidden time): default color Blue-Cyan
The reader also integrates a buzzer (which can be activated with the ETS parameter) for anomalies signaling.