Dimmer 4 Channels x 1-10V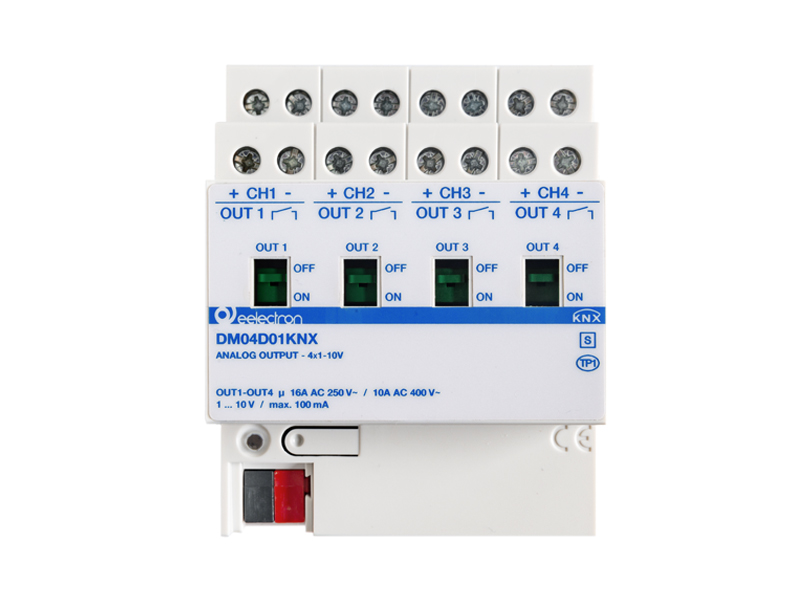 DM04D01KNX  is a KNX 4 channel dimmer with switching and brightness setting for lamps with operating devices with 1-10V interface.
• Manual switching of the relays is independent of the Bus
• Switching of capacitive loads and the resulting high switchon currents
• Flexible assignment of control inputs to switching outputs, e.g. to control RGBW lamps
• Operation of the switching outputs as a switching actuator
• Connection of various external conductors
• No additional power supply necessary
• Feedback of switching state and brightness value
• Switch position display
• Burnin function for fluorescent lamps
• Switchon and dimming behaviour can be set
• Time functions: switchon delay, switchoff, delay, staircase lighting timer with runon time
• Integration into light scenes
• Operating hours counter
The Lighting management KNX DALI Eelectron, developed on KNX protocol, are intelligent custom home automation systems for automation and energy saving in buildings; the product range with Made in Italy is designed for residential, hotel and building applications.
Contact us for information about the Dimmer 4 Channels x 1-10V.